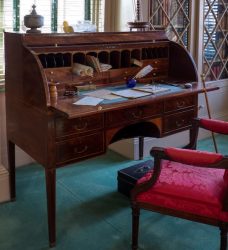 Cylinder Fall Desk
JJ's Office
1790
Mahogany, Maple, white pine, tulip poplar, brass
JJ.1987.7
This federal-style desk is original to John Jay during his time as governor (/Chief Justice) and came with Jay when he retired to this house. It is known as a cylinder-fall desk because of the top which swings into place to cover the writing surface. The top has a circular arc and isn't flexible, which is different than roll-top desks, which have flexible tops and S-shape tracks.
Like most American Federal furniture, its design is linear and plain. The center kneehole is decorated with inlaid fans on both sides and it has square tapering/tapered legs. The top opens to a fitted interior with a sliding writing surface, which sits above five drawers.
There are ten drawers above the writing desk, but only the top six open. The four drawers immediately above the writing surface are false; they are there for symmetry when the writing surface is extended but retract when the desk is closed. The desk also has cubby holes above the drawers, both in the center and to the sides.
The green felt on the center section was to protect the wood of the desk from potential damage that could come from writing with pens and ink spills. It also has a hinge and support underneath which allows the user to adjust the desktop and write or draw at an angle.
The desk is made of mahogany and maple, which were characteristic of the American Federal style. The use of white pine as a secondary wood, combined with tulip poplar are characteristic of New York federal style pieces of the era. There is an almost identical desk design in Thomas Sheraton's The Cabinet-Maker and Upholsterer's Drawing-Book, which was first published in 1793.
This desk was made around 1790 in New York. John Jay was elected for his first term as Governor in 1795 and used this desk during both terms in office. One of the laws Jay passed as governor of New York was An Act for the Gradual Abolition of Slavery, in 1799. This law stated that starting July 4th, 1800, all children born to slave parents would be free and that slave exports would be prohibited in New York. However, these children were required to serve their mother's owner until the age of twenty-eight for males and age of twenty-five for females. While this law defined the children of slaves as a type of indentured servant, it slated the way for their eventual freedom.
You may view the Object of the Day Archives HERE