The Formal Gardens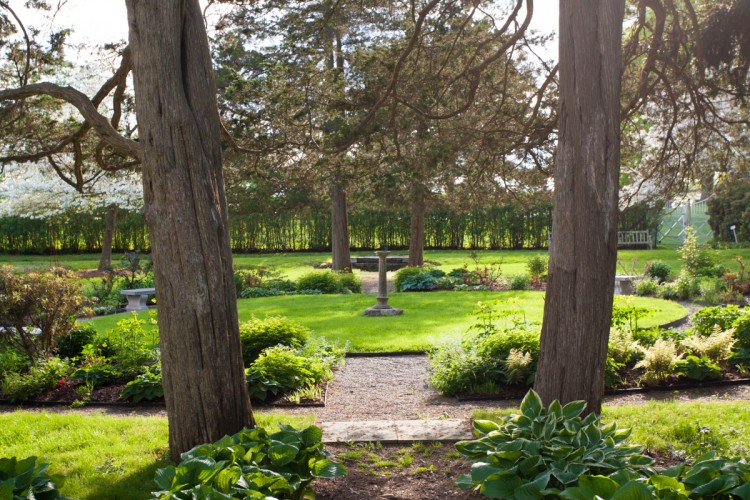 Through the white gate off the parking lot are the formal gardens which date from the first half of the 19th century, although they have been redesigned a number of times. The fountain is believed to date from the early 20th century. For much of its history, the lower, or Fountain Garden was planted with berry bushes; later, it was planted with roses. Today it is maintained by Friends of John Jay Homestead. The upper, or Sundial Garden, is in the Italian style. In the late 19th century, John Jay's great-great-granddaughter and her cousin used to play here, pretending that the garden was the Garden of Eden and that they were Adam and Eve. Today members of the Bedford Garden Club maintain this garden.
Terrace Garden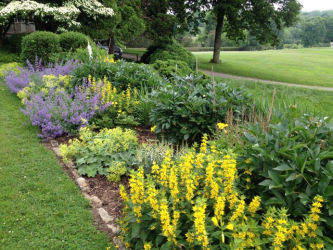 This garden, created by Eleanor Jay Iselin in the 1920s when the adjacent Iselin Wing was built onto the house, was restored in 1965 by Rusticus Garden Club following Mrs. Iselin's 1924 plans. In the 1990s the club continued to modify the plant material in the Terrace Garden using deer resistant plants and flowers. Rusticus also restored an apple orchard, in 2012, in the area of John Jay's "Old Orchard." Club members grew the heritage breed apple trees, of varieties known to have been grown here, from grafts.
The Herb Garden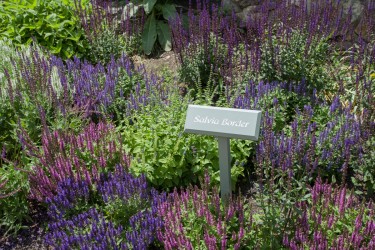 This area, in the late 19th century and for the first half of the 20th, was a cutting garden and glasshouse area for producing cut flowers for the Jay house and to sell to New York City hotels. The white building was a potting shed, part of a complex that included two glasshouses. The concrete foundations are what survive of the glasshouses. The garden took its present form in the early 1990s when the New York Chapter of the Herb Society of America implemented a design by Page Dickey, laying out the garden in the style of a 17th-century English knot garden. It is planted with a wide variety of herbs that were grown historically for various purposes: cooking, dyeing, fragrance, medicinal use, and pest repellent. The Herb Society's members continue to care for this garden.
Teaching Garden
In the glasshouse foundation adjacent to the Herb Garden Bedford Bee has created a pollinator garden used for educational programming associated with our Bee Days scheduled for the 3rd Saturday of every month, April through October.
North Courtyard Garden
The Hopp Ground Garden Club designed and established the North Courtyard Garden between 1997 and 2000 to beautify the accessible entrance to John Jay's historic Bedford House. Taking cues from a book of pressed flowers in the museum's collection that had belonged to Maria Jay, John Jay's daughter, the garden features a blue and white spectrum with a variety of colors and textures, and aromatic flowers that bloom from spring to fall. Many of the same flowers Maria loved fill this garden today, including violets, poppies, and irises.