Contact
For information about availability and additional details about holding special events at John Jay Homestead, please contact Heather Iannucci at heather.iannucci@parks.ny.gov.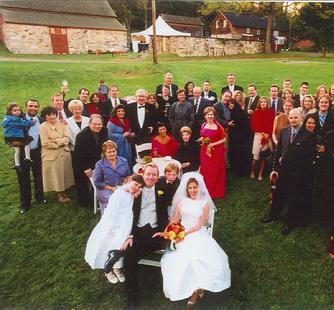 A limited number outdoor spaces at John Jay Homestead State Historic Site may be rented for private or public events. Due to the installation of a fire suppression system in Bedford House, we do not have any indoor spaces available through 2024.
Gardens or other outdoor spaces
The Homestead features many lovely garden locations, meadows, and fields where tents may be set up for events.
Rental fees; with tent:
Front fields = $2,500
Barn complex = $2,500
Brick Lot = $2,500
Front lawn = $4,000
Rental fees; without tent:
<25 people = $0
26-50 people = $25
51-100 people = $50
>100 people = $100
Guidelines
• Weddings, parties, corporate meetings and picnics, lectures, public fairs and the like may all be arranged by permit with John Jay Homestead staff.
• Permits must be obtained and approved in advance for the event itself, for the serving or consumption of alcoholic beverages, for posting signs, for amplified music, for selling food and/or merchandise to the public, and for the erection of tents. Additional fees may apply.
• Some additional fees may apply for the use of the site's utilities, equipment, comfort station, etc. Please request a complete fee schedule for details.
• A certificate of insurance is required, naming the State of New York as additional insured.
• John Jay Homestead is only able to provide the space for your event. Persons or organizations holding events at John Jay Homestead are responsible for hiring their own tent company, caterers, party planners, parking attendants, florists, entertainers, temporary restroom facilities, and refuse removal.
• Rates may be higher for commercial use.
• There is a staffing charge of approximately $90/hour for the duration of the event, including set up and clean up time.
If you'd like to schedule a site visit to discuss details and see the available spaces, please contact Heather Iannucci