Contact
For information about availability and additional details about holding special events at John Jay Homestead, please contact Heather Iannucci at heather.iannucci@parks.ny.gov.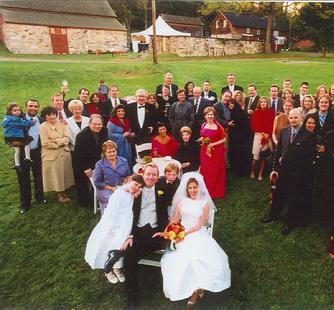 A limited number of indoor and outdoor spaces at John Jay Homestead State Historic Site may be rented for private or public events.
The Iselin Wing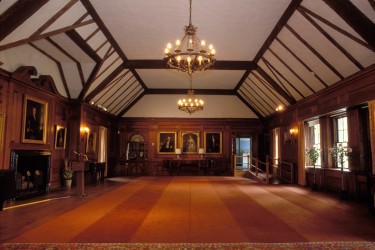 The main room in the 1920s Iselin wing is an elegant 30' × 55' space, paneled in the Georgian style and hung with historic Jay family portraits. Its capacity is 150 people, either standing or seated auditorium-style. For seated dinners, the capacity is 120. The room is wheelchair-accessible. Adjacent are a coat room, restrooms, and a porch where a meal can be staged. There is no working kitchen; cook's tents are permitted near the porch.
Rental fees:
Up to 8 hours with catering $4,000
Up to 4 hours with catering $2,000
Small gathering (<50 people) with no catering    $750
Brick Lot, Garden, or other outdoor space
The Brick Lot is a gently-sloping field of clipped grass at the east end of the property. Tents may be set up there for events. The Homestead also features many lovely garden locations.
Rental fees:
Daily rate $3,000
Guidelines
• Weddings, parties, corporate meetings and picnics, lectures, public fairs and the like may all be arranged by permit with New York State Office of Parks, Recreation and Historic Preservation staff.
• Permits must be obtained and approved in advance for the event itself, for the use of alcohol, for selling food and/or merchandise to the public, and for the erection of tents.
• A certificate of insurance is required, naming the State of New York as additional insured.
• The New York State Office of Parks, Recreation and Historic Preservation is only able to provide the space for your event. Persons or organizations holding events at John Jay Homestead are responsible for hiring their own caterers, party planners, parking attendants, florists, entertainers, temporary restroom facilities, and refuse removal.
• Non-profit organizations are eligible to receive a 25% discount on the rates given above.