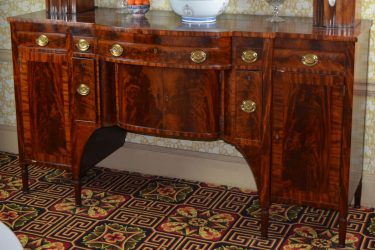 Federal Sideboard
c: 1800
Wood, Mahogany Veneer, Brass
JJ.1962.732
This federal style sideboard was made around the year 1800 and was original to John Jay. It is made out of wood with a mahogany veneer and has brass key plates and pulls. The sideboard has a stepped top and five sections of drawers and cabinets. The center section is bowed out with swinging doors; the middle section, has two small drawers on either side of the cabinet. The bottom drawer is narrower but has enough space to store bottles, which was its purpose. At each end, there is a large drawer with a cabinet recessed beneath it.
The brass pulls that are currently on the sideboard are not the originals and were likely replaced in 1948; the man who purchased the sideboard stated that it originally had "large brass knobs of floral design".
At the center of the brass pulls, there is a carving/engraving of the United States' official seal. The seal, and the engraving, have an eagle with arrows and an olive branch clutched in its talons. Above the eagle is a banner with the words "E pluribus Unum", which means "out of many, one" and refers to the union. There are 13 stars above the eagle as well as 13 vertical stripes on the shield, both representing the 13 states (colonies) that joined to support/create the greater nation.
Dining rooms were a relatively new concept at the time that John Jay retired to this house. The idea of a specialized room set apart for the sole purpose of dining was a sign of economic success and social standing. Before this, dining rooms were mentioned in historical records but often referred to the typical sitting room or parlor.
During the 18th century, dining rooms had side tables that were used to facilitate serving. By the end of the century, a new design of side table was introduced, called a "sideboard" and/which included the addition of deep cupboards or bottle drawers in its design.
Throughout the 19th century, the sideboard became the single most important piece of furniture in the dining room. They were convenient for serving drinks and storing bottles of liquor. They also provided storage for flatware, either in the drawers or in knife boxes that would have been specifically designed for the top of the sideboard. Besides being functional and convenient pieces of furniture, sideboards were also considered display pieces. Many homes built alcoves or niches to frame and bring attention to its beautiful design.
Our sideboard is a less ornate example from the period; other pieces would have more complex inlays and panels. Despite this simplicity, almost all Federal style sideboards have the general shape and design that you see here.
While the sideboard was originally at Jay's house, it was auctioned off by the family in 1948. It was purchased by a local auctioneer/appraiser and eventually returned to the Homestead in 1962.
You may view the Object of the Day Archives HERE