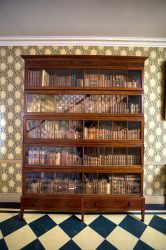 Barrister Bookcase
1790
Back Hall
American
JJ.1969.307
This ornate, Federal-era bookcase was made around 1790 and original to John Jay during his time as the first Chief Justice. Known as a barrister bookcase, it was used by lawyers to make their law libraries more portable while they traveled on court circuits.
These specialized bookcases consisted of multiple separate shelf units that could be stacked together to form a cabinet or be taken apart as needed. This one has five separate removable shelves, with massive brass bail handles on both ends. Inside, each shelf has a double shelf, with the rear one being raised so that two rows of books could fit and be visible.
Federal period furniture doesn't have many distinctive design qualities; its often used to classify furniture made in America right after the Revolution, until 1840 – the time when America was redefining themselves as a nation. Design differences vary by region but the style is generally less ornate than designs from the colonial era (and before).
Jay would have used this bookcase to travel with his law books during his time as Chief Justice. At that time, Supreme Court Justices were required to serve on circuit courts, traveling to different cities and states in order to hear cases.
In practice, Jay "found the duties of a circuit court justice tiresome". He was sent all over the Northeast for most of his tenure as Chief Justice and kept a diary of his travels for the first two years. His diary shows that the trips would last over a month (including travel home) and he would often hear cases in 3 or 4 different cities each trip. In the first two years alone he heard cases in New Haven and Hartford, CT, Boston, MA, Portsmouth and Exeter, NH, Bennington, VT and Providence, RI.
At the time when Jay took office, there was not a lot of legal precedent for this new Constitutional form of government. It was mainly the constitution itself that acted as the guide moving forward. Jay's charges were praised for their clarity and elegance; newspapers would even print some of them in order to help educate a broader audience about their new government.
One precedent that Jay set was one of the earliest examples of the Supreme Court ruling in favor of Federal/international law over state. The case regarded the collection of debts owed to British creditors after the Revolution; he ruled that the terms of the peace treaty were to be honored above all else, including state authority. (Some states had laws prohibiting the collection of or forgiving interest owed to British creditors during the war years. A provision in the peace treaty addressed the issue of interest owed, stating that states could not prohibit the collection of this interest, which is what Jay honored in his rulings).
The bookcase was made for John Jay around 1790 and would have originally been located in Jay's office, here at the homestead. When he died in 1829, Jay left it to his oldest son, Peter Augustus. From there, the bookcase passed through (about) 5 generations of Jays until it was sold, and then later donated back to the house in 1969. Most of Jay's law books that would have been in these shelves are now at Columbia University.
You may view the Object of the Day Archives HERE