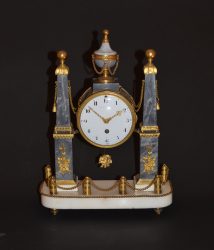 Mantle Clock
1785
marble, brass, ormolu, glass, other metals
JJ.1958.79 A-B
The clock was made in Paris and is signed Pochon a Paris, indicating it was made by Jean-Charles Pochon. Pochon was one of the most important Parisian clockmakers in the second half of the 18th century. Pochon was active in the 1780s, which coincides with the Jay's being in France in 1782-1784.  Jay was serving as a peace negotiator at the time.  How the clock came to the Jay house is unknown; but it may have been purchased by John or Sarah Jay while in France.
The clock is designed in the Louis VXI style. Louis XVI furniture and decorative arts are characterized by elegance and neoclassicism, which is a return to ancient Greek and Roman models. Much of it was designed and made for Queen Marie Antoinette for royal residences.  It exhibits many classical elements including straight lines, Greco-Roman influence and the frequent use of gold.
The mantle clock has a white marble base on brass feet, with ormolu fence posts around the outside edge of the base. Ormolu is a gold-colored alloy of copper, zinc, and sometimes tin, cast into desired shapes and often gilded, used especially in the 18th century for decorating furniture and making ornaments.
The grey marble obelisks on either side of the clock face are topped with brass ball finials and adorned with a fasces and axe design.  The fasces (Latin for bundle), and axe design was a symbol of power in Ancient Rome typically associated with magistrates or judges.
The round-faced clock is surmounted by a gray marble urn with ormolu fittings and a brass chain. The glass lens protecting the fact of the clock is hinged; it opens so that the clock can be wound.  The pendulum has a sun god face.
In 1877 Martha Lamb wrote The History of the City of New York: Its Origin, Rise, and Progress. Featured in the book is an image of John Jay's Library.  On the mantle the clock is clearly visible. This means that the clock has been in Jay's office for 170 years.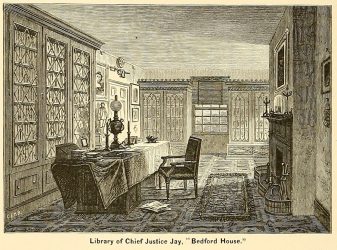 You may view the Object of the Day Archives HERE