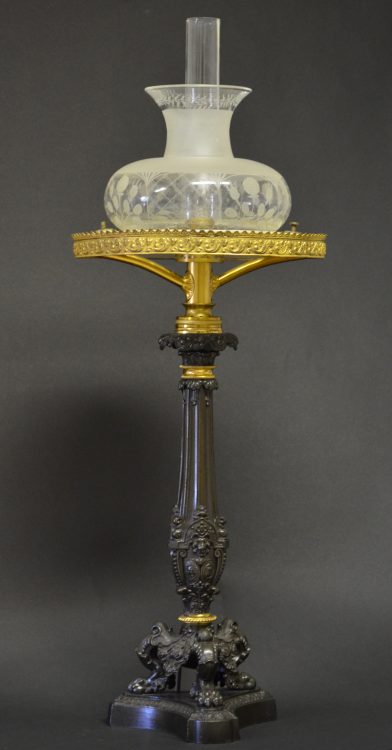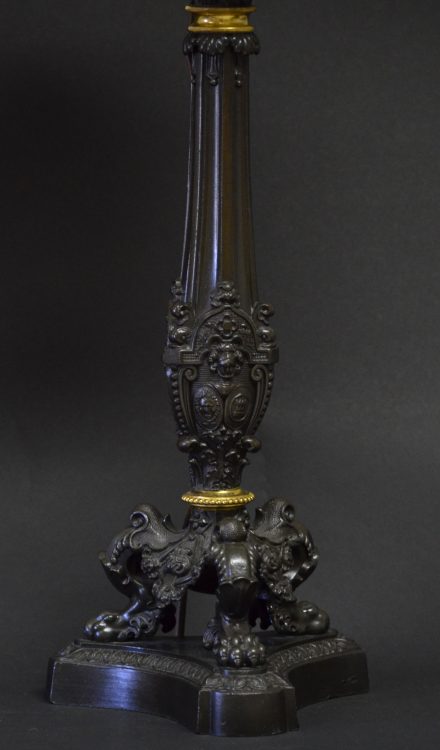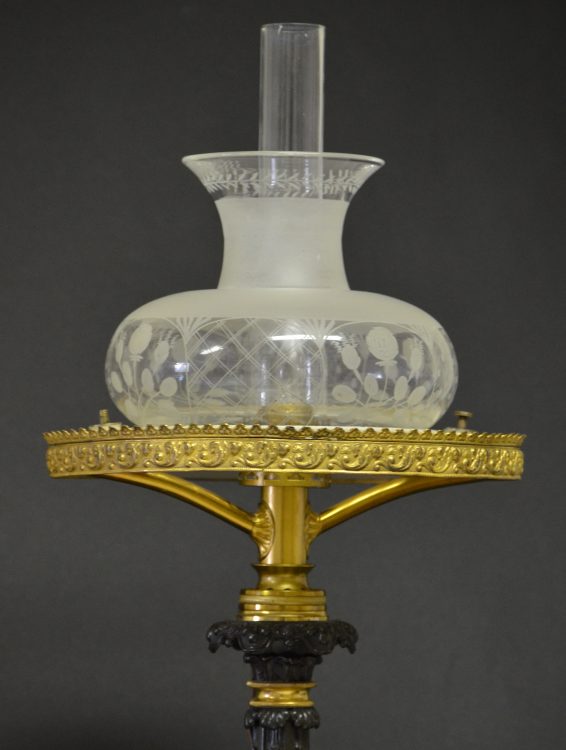 Sinumbra Oil Lamps
c.1820
Gilt bronze, spelter, gilt brass
French
JJ.2017.41
These identical sinumbra lamps were made around the year 1820 and are designed in the French Restoration style. They both have a glass cylinder and rounded, decorated glass shade at their top. The shade is partly frosted, with floral designs intermittent across the glass and is original to the piece. The middle shaft of the lamp is vase-shaped, and has a plume motif at the top of it. At the bottom of the shaft are elaborate carvings that connect to a tripod base, which is also elaborately carved into lion paws and leaf motifs. While they are currently wired with electricity, they would have originally used oil.
The word "Sinumbra" is Latin for "without shadow"; referring to the way that the lamp allowed the light to shine into a room. The light source is in the center of a circular tank that held the oil to be burned. In the beginning, whale oil would have been used in the lamp but eventually kerosene became more popular and replaced the use of whale oil.
The main idea was to have a "contrasting"/different type of light compared to the more elaborate Argand lamps that were around at the time. The problem with Argand lamps was that their ornate decoration [on the lamp stands] often created a shadow. In response, the Sinumbra lamp has a simpler, but still elegant, design that decreased the shadowing effect and allowed the light to shine more brightly.
In the latter half of the 19th century, the use of gas lighting in homes became more popular and began to replace whale and kerosene oil lamps. Ultimately, both oil and gas fueled lamps were made obscure by the invention of electricity and the electric light bulb.
These lamps are designed in the French Restoration style, which came around after the fall of Napoleon (1815) and lasted until the July Revolution of 1830. The style is often defined as a cross between the Empire style of the Napoleonic era and Neoclassicism, which was becoming popular in other parts of Europe. It was still elegant, ornate and refined but lacked the grandiose decoration that defined the Empire style. Most Napoleonic symbolism had also disappeared, but the more common Empire design aspects like floral motifs, lion's paw feet, dolphins and lyres were carried over into the Restoration style.