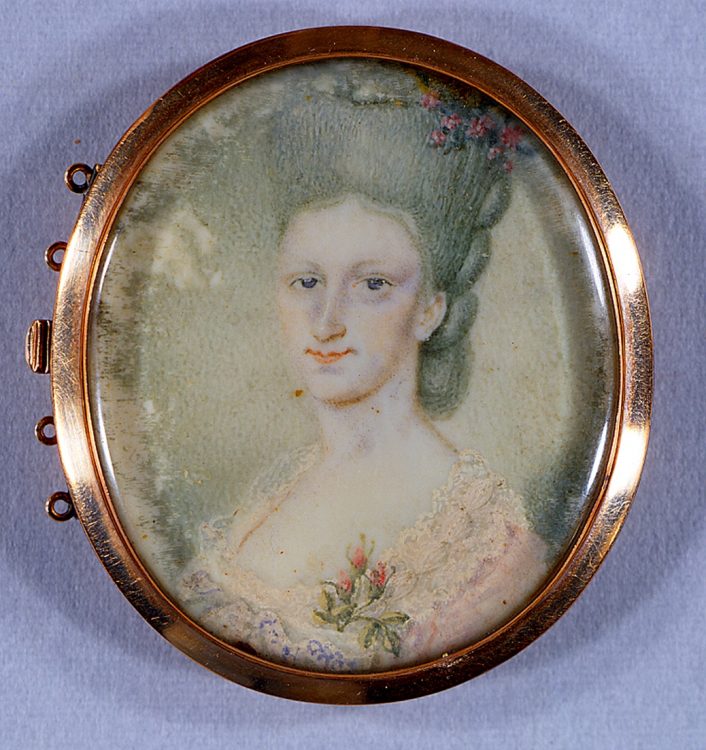 Locket with miniature portrait (Sarah Jay)
1784
Ivory, gold, glass, paint, human hair
Attributed to Alexander Roslin
JJ.1984.189
This miniature portrait depicts Sarah Livingston Jay (1756-1802), the wife of John Jay. The watercolor on ivory locket is designed to be worn on the wrist with ribbon. The five holes on each side allow the ribbon to be attached to the locket. Encased in the back of the miniature is a lock of John Jay's hair along with the inscription: Sarah Vanburgh Jay; given to Elizabeth Clarkson Jay by Maria Banyer Hair of John Jay.
Miniature portraits of loved ones were valued possessions, as highly prized as full-size portraits in oil. Miniatures were meticulously painted in watercolor on ivory, a difficult medium that demanded considerable technical mastery. When completed, they were set in decorative cases that enabled them to be worn as jewelry or placed on display.
First created in the 15th century for book illustrations, miniatures began to become luxury items in the courts of France and England. The first portrait miniature appears in the 1520s. They quickly became a favorite of the monarchy; they were small enough to be given personally in a public ceremony as a sign of the monarch's favor.
Our miniature is attributed to Alexander Roslin (1718-1793), a Swedish born artist who worked in several European countries. Roslin found his greatest success in France, and worked there exclusively beginning in the 1760s. He became one of the foremost portraitists in Paris, known for his renderings of luxurious fabrics and gentle complexions. He was a favorite of Louis XV, who gave him an apartment in the Louvre. Because Roslin worked exclusively in oils and pastels after his teen years, there is some question as to the attribution of our miniature.
The miniature is thought to have been made in France in 1784. John and Sarah Jay had been there since 1782 while John was participating in negotiations to end the Revolutionary War. A letter from William Temple Franklin (Ben Franklin's grandson, and the Secretary for the American peace Commissioners), dated April 25, 1784, mentions Roslin to Jay as a possible artist to paint an image of Sarah.
After Sarah's death in 1802, the miniature passed to Sarah's daughter, Maria. Maria gave it to her niece, Elizabeth Clarkson Jay (1825-1891), who was the daughter of her brother, Peter Augustus Jay. After Elizabeth's death, the item stayed in the Jay family until it was donated to the Homestead in 1984. It is unknown when John Jay's hair was added.
You may view the Object of the Day Archives HERE