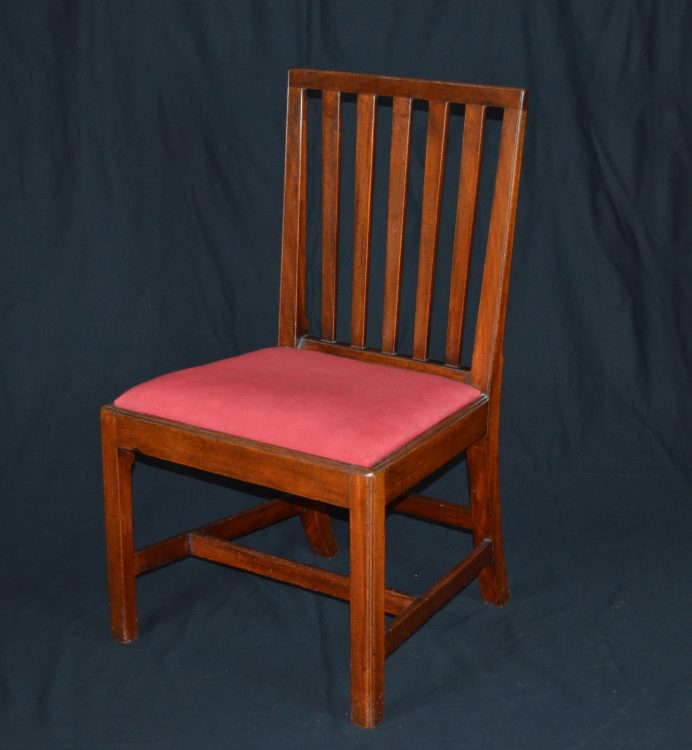 Dining Chairs
1780-1790
Mahogany
Maker: Unknown
New York
JJ.1958.138.1-11, JJ.1982.78
 
These mahogany dining chairs are made in the early Federal style, which is characterized by geometric forms, straight lines and the use of mahogany wood. The legs of the chairs are chamfered on the inside, meaning they are cut away on a right-angle to make a symmetrical sloping edge. The chairs have a bannister, or railed back with 5 tapered, rectangular spindles. The cushions are covered in a reproduction red silk fabric and are not affixed to the chairs. During conservation, evidence of red silk fibers was found on two of the chairs beneath their 18th century tacks. This matches with the family's oral history, stating that the dining room was done in reds/decorated in red.
These chairs were owned by Jay and originally came in a set of 24. We found a receipt from Anthony Van Santwoods in a folder dated 1796 that appears to show these chairs were part of the furniture Jay sent from his home in New York to Albany.
Each of the chairs are numbered with a Roman Numeral; the numbers do not go in sequential order and are in three different sizes. Our chairs are numbered: 3, 6, 7, 10, 11, 14, 15, 16, 17, 18, 22, 24. Nine of those chairs have small markings, one chair has a medium sized marking and two have large markings. The inconsistency of the numbers and the variance in their marking size could suggest a few possibilities: the chairs might have come from different sets, they were made at different times, or they were made by different makers.
The table, chairs and demi-lune tables are not a set. At the time, dining room sets had not been invented yet. The idea of a dining room was still a rarity in the early 1800s, they did not previously exist in American homes. Having a room dedicated entirely to dining at a time when the average home had 3 or 4 rooms was impractical. As a result, cabinetmakers did not make dining sets since so few people could use them and there was no market for them.