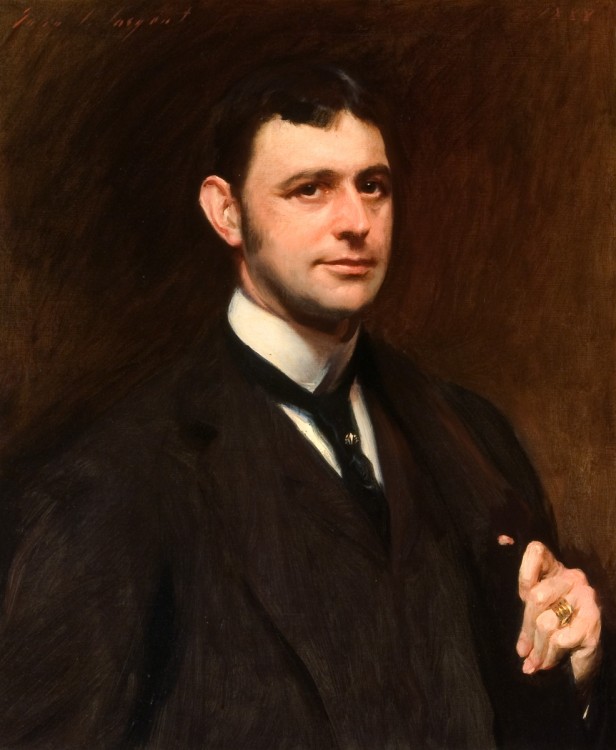 Colonel William Jay (1841-1915)
1888
Oil on Canvas
John Singer Sargent (1856-1925)
JJ.1982.2.A.B
 
This portrait of Colonel William Jay was done by John Singer Sargent in 1888, when Jay was 47 years old. The painting is a traditional half-length portrait of Jay wearing a dark suit and grey pants. He has a snake head ring prominently displayed on his hand, which was common in Victorian Fashion. (Snakes became popular in Victorian jewelry after Prince Albert proposed to Queen Victoria with an emerald ring shaped like a snake). Sargent distinctive brushy style can be seen around the sitter's hand, while Jay's face is composed with more realism. The painting is signed by the artist in the upper left-hand corner and the date is in the upper right-hand corner.
William Jay was born in 1841 and was the only son of John Jay II and Eleanor Field Jay. Like previous Jay generations, William became a lawyer after graduating from Columbia University in 1859. He went on to serve in the American Civil War from 1861-1865, achieving the rank of Lieutenant Colonel before he retired in 1865. During his service, Jay was involved/witnessed some of the Civil War's major battles, such as the Battle of Chancellorsville, Gettysburg, Bull Run, and Appomattox (to name a few). Jay married Lucie Oelrichs Jay and had three daughters, with only their daughter Eleanor living to adulthood.
John Singer Sargent was born in 1856 to expatriate parents who were living in Florence at that time. He spent his whole life traveling and even though he never received any formal education as a child, he went on to study art in Paris under the portraitist Carolus-Duran. Sargent originally preferred to paint landscapes but began to receive commissions for portraits from wealthy Europeans and Americans abroad in the early 1880s. Towards the end of the 1880s, Sargent came to America after receiving important commissions in Boston and New York; he would go on to complete over 20 important portraits of people like Isabella Stewart Gardener and members of the Jay and extended Jay family. John Signer Sargent continued to be a prolific and sought-after painter until his death in 1925.