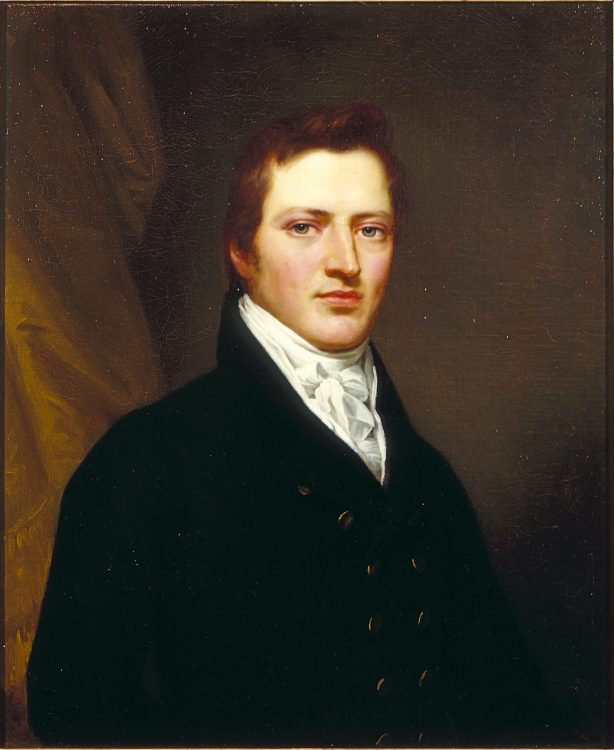 William Jay
1819
Oil on canvas
John Vanderlyn
JJ.1974.132?
This portrait of William Jay was done in 1819 by the renowned artist, John Vanderlyn. The painting is a three-quarter length portrait of the sitter, who faces slight right and is against a dark but simple background. It depicts a young William Jay, who was 29 years old at the time and already married with at least 3 children.
John Vanderlyn (1775-1852) was born in Ulster County into a middle-class family. While studying art in New York City, he gained the patronage and friendship of Aaron Burr. Burr's financial support allowed Vanderlyn to study with Gilbert Stuart in Philadelphia and in Paris from 1796-1801. After studying with Stuart, Vanderlyn lived and worked in Europe from 1803 until 1815, when he returned to America for good.
In February 1802, Vanderlyn was commissioned by the City Commissioners of NY to paint a portrait of John Jay. Despite later commissioning the portrait of his son William, it appears Jay was not a personal fan of the artist. Vanderlyn was a Democratic-Republican and close friend of Aaron Burr, most of his portraits during this time were of other Democratic-Republicans.
Vanderlyn suspected that Jay was unwilling to sit for him due to his political leanings. In a letter to his brother he wrote, "…I am inclined to think he is averse to having it done by me more especially on account of the ill will he bears towards my Patron [Burr], for I do not think him above those littlenesses." Jay had continued to delay his sitting with Vanderlyn for over a year until it was too late and Vanderlyn had gone back to Europe.
In contrast, John Trumbell returned to NYC from Europe in June 1804; within weeks of returning, Trumbell received the commission for Jay's portrait and in December, only 6 months later, Jay sat for his portrait without delay.
As Burr's political career began to suffer, Vanderlyn's association with Burr faded. Due to his time in Europe and the patronage of others, Vanderlyn was able to separate his name and his art from Burr. Despite his success early on in his career, Vanderlyn died penniless in Kingston, NY in 1852.