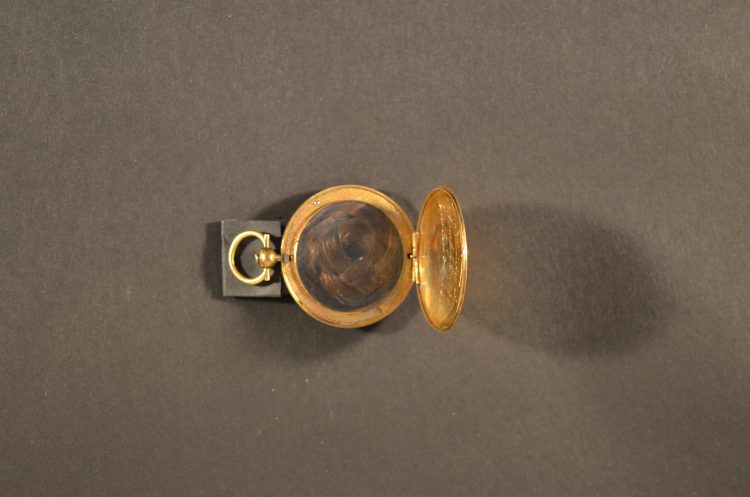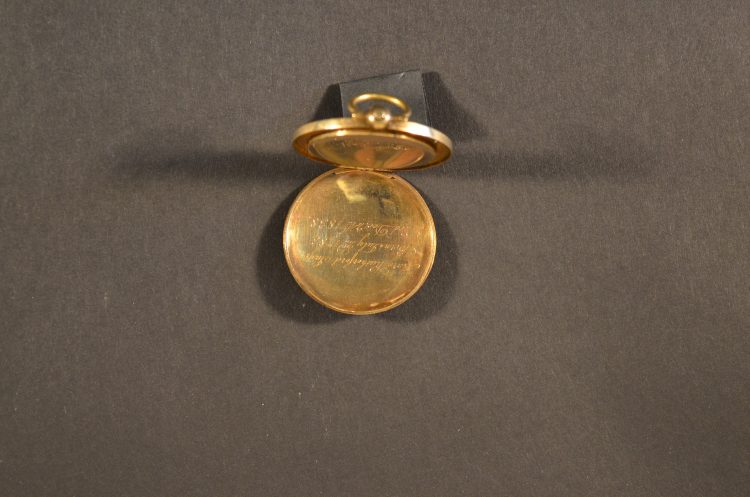 Locket
1839
14k Gold, glass, human hair
JJ.1967.1
This locket contains the hair of Mary Rutherford Clarkson Jay.  Mary was the wife of Peter Augustus Jay, the eldest son of John and Sarah Jay.  Mary's hair is braided and has been placed on the crystal in the 14k gold locket.  Stylistically, the locket is like a pocket watch and opens from the top.  The outer disc is engraved with a fine, ingrain pattern; with a small circle in the center reserved for a monogram.  The item is engraved:  Mary Rutherford Jay, Born July 2nd, 1786, Died Dec. 24th, 1838.  Mary died in Funchal, Madeira at the age of 52.  The item was passed down through Mary's descendants, until it was donated to the Homestead in 1967.
This piece of hair jewelry is considered a mourning piece; a token of remembrance of the dead.  Hair jewelry dates to the 12th century and increased in popularity in the late 18th and 19th century.  Mourning pieces allowed you to carry a part of the deceased with you.  Hair was often used since it does not decay over time and can be easily manipulated into various designs. Pins, watch fobs, and lockets were the most popular types of mourning jewelry.
Mourning jewelry increased in popularity after the death of Prince Albert in 1861.  Queen Victoria was in mourning until her death in 1901.  During her 40 years of mourning, she dressed only in black and always wore a locket containing her husband's hair.  Hair jewelry became so popular, that in 1867 a book entitled Self-Instructor and the Art of Hair Work was published.  It fell out of popularity in the 1920s due to changing styles.