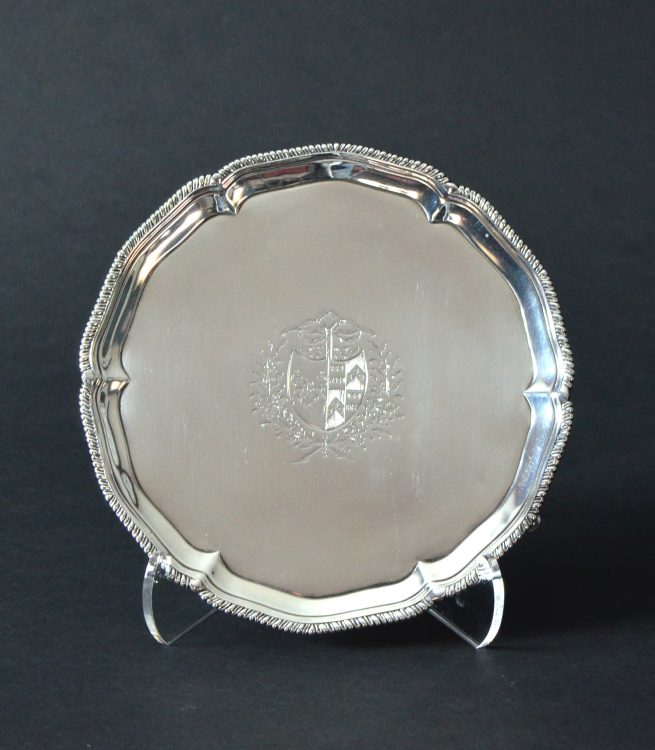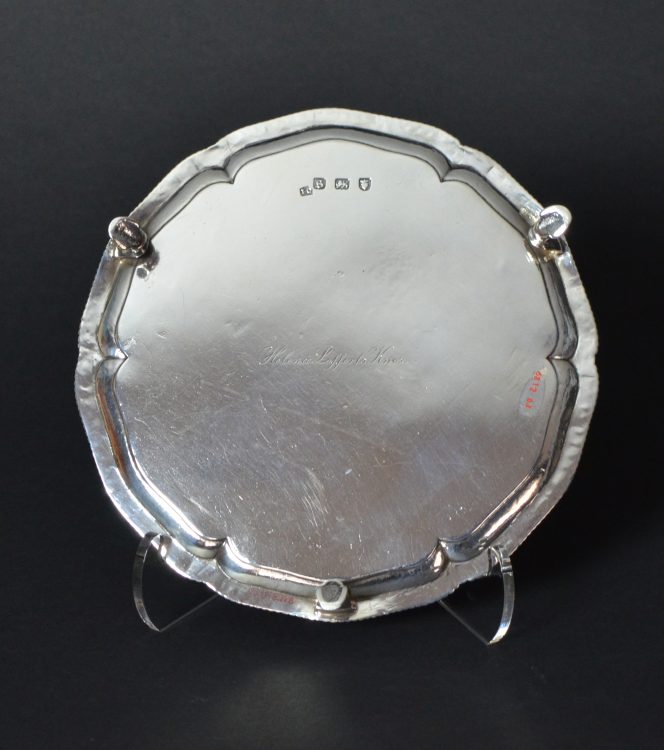 Salver
c.1773-1774
Sterling Silver
JJ.1968.228
 
The Salver was used primarily as a presentation dish for the serving of food or drink, never would a person have eaten off this. Smaller ones would have also been used as calling card holders, or for the presenting of letters by servants in more affluent households. Ours here is rather ornate, it is rose shaped, in the George III style. There are three hoofed, cabriole legs (meaning they are curved twice) that support the tray It has a gadroon border, and an unidentified crest engraved in the center of a floral wreath- surrounded shield.
There are several hallmarks on this piece. The two that have lion motifs indicate undoubtedly that this is a London-made piece. The hallmark with the lion's full body is called the "Lion Passant" and it indicated that the silver used was sterling standard, or 92.5% pure silver, a standard established by Queen Elizabeth I in 1560. The Leopard's head with crown on it in a mark from the London Assay office, where the purity of the silver was tested, and authenticated as sterling to protect consumers. These two, combined with the decorative "S" hallmark, indicate that the piece was made between 1773-1774, as London silversmiths used a universal lettering system to show which year a piece was made, with the appearance of the letters changing every 20 years.  The "I.C" hallmark is the only maker's mark, and it tells us it was made by London Silver and Goldsmith John Carter (no bio).
It is also engraved "Helena Lefferts Knox", likely a previous owner of the piece, as it was donated to the Homestead by an Amy Knox in 1968.