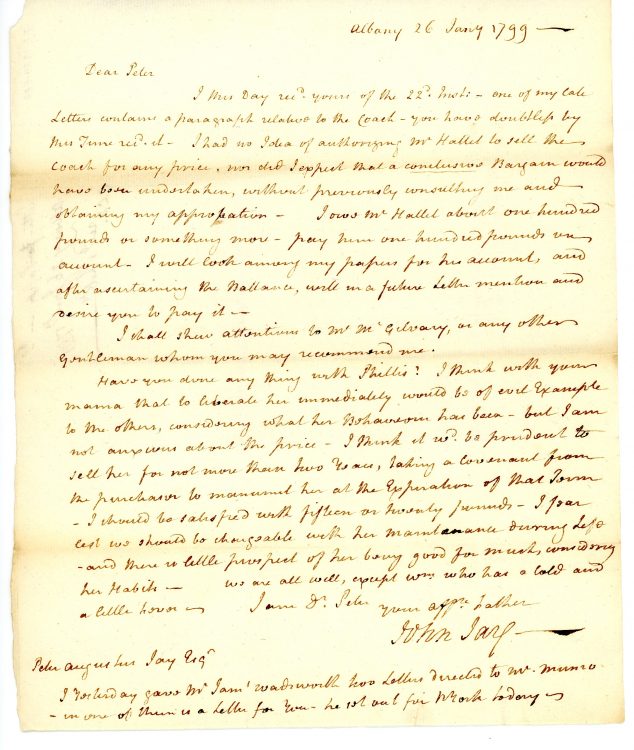 Letter from John Jay to Peter Augustus Jay
January 29, 1799
Paper, Ink
JJ.1980.582
This letter written by John Jay (1745-1801) to his son Peter Augustus (1776-1843) discussed a number of property matters.  Peter Augustus was working as John's agent in New York City while John was in Albany serving as governor.  The letter mentions Phillis, a Jay family slave that John has instructed Peter to sell.  John instructs Peter Augustus to be sure to get a promise of manumission from the new owners guaranteeing they will free Phillis after two years.
Albany 26 Jany 1799
Dear Peter
I this Day recd. yours of the 22d Inst – one of my late Letters contains a paragraph relative to the coach – you have doubtless by this Time recd. it – I had no Idea of authorizing Mr Hallel (sp?) to sell the coach for any price, nor did I expect that a conclusion Bargain would have been undertaken, without previously consulting me and obtaining my approbation – I owe mr Hallel (sp?) about one hundred pounds or something more – pay him one hundred pounds on account. I will look among my papers for his account, and after ascertaining the Balance, will in a future Letter mention and desire you to pay it. –
I shall show attention to Mr McGilvary (sp), or any other Gentleman whom you may recommend me.
Have you done any thing with Phillis? I think with your mama that to liberate her immediately would be of evil Example to the others, considering what her Behaviour has been – but I am not anxious about the price – I think it wd. Be prudent to sell her for not more than two years, taking a covenant from the purchaser to manumit her at the Expiration of that Term – I should be satisfied with fifteen or twenty pounds – I fear lest we should be changeable with her maintenance during life – and there is little prospect of her being good for much, considering her Habits – we are all well, expect Wm. Who has a cold and a little fever ~
I am Dr. Peter
your affte Father
John Jay
Peter Augustus Jay Esq
I yesterday gave Mr Jam' Wadeworth two Letters directed to mr. Munro – in one of them is a Letter for you – he is out for N York today ~