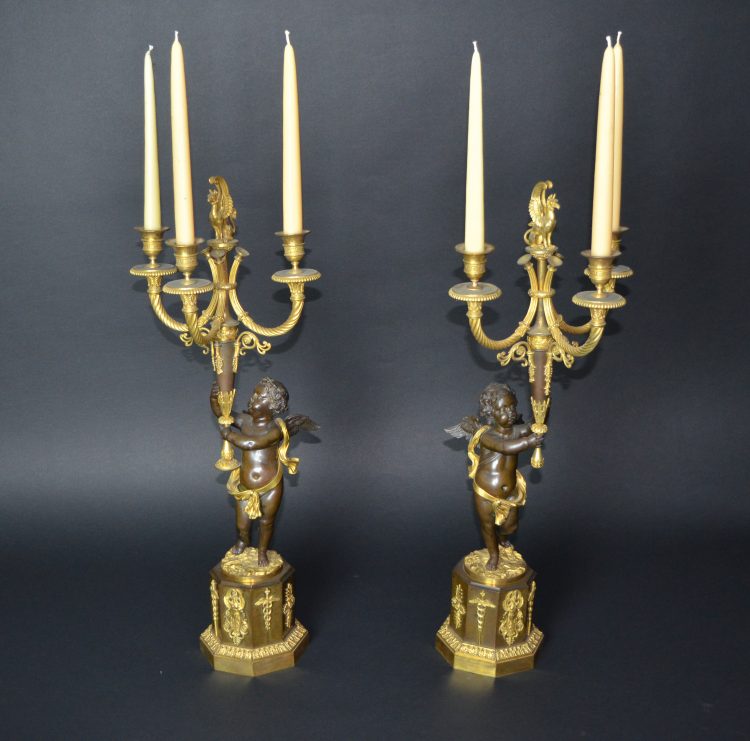 Pair of Candelabra
1810
Bronze, Ormolu
JJ.1958.80            
The candelabra on the mantle are made from bronze and ormolu, a gold-colored alloy of copper, zinc, and sometimes tin which is cast into desired shapes and often gilded. They are attributed to the famous French bronzier, Claude Galle. These pieces depict symbols traditionally associated with Greek mythology: cherubs, a winged griffin, and the caduceus. The caduceus, the single staff with two intertwined snakes, is traditionally associated with the Greek God Hermes. It is often confused with the Rod of Asclepius, the Greek god of healing and medicine. The Rod of Asclepius is often used today as a symbol associated with the health care industry.
We believe the candelabra are part of a set which includes a clock. The clock, which is currently at our collections conservation lab, has Galle's name and shop address noted in it, and can definitively be dated from between 1805 when he moved to the noted address and 1815 when he died.
By the mid-1780s, Galle had become extremely successful, producing mounts for furniture, clocks, and other objects in gilt bronze for the palaces of Fontainebleau, Versailles, Saint-Cloud, and Compiègne, working in collaboration with many fine artisans such as Pierre-Philippe Thomire. His large shop employed 400 craftsmen. After the French Revolution, Galle continued to produce numerous pieces for Napoleon Bonaparte, receiving an order worth more than 65,000 francs for the Château of Saint-Cloud. Today his work may be found in the world's most important museums and collections.
It is believed that the pair belonged to John Jay.