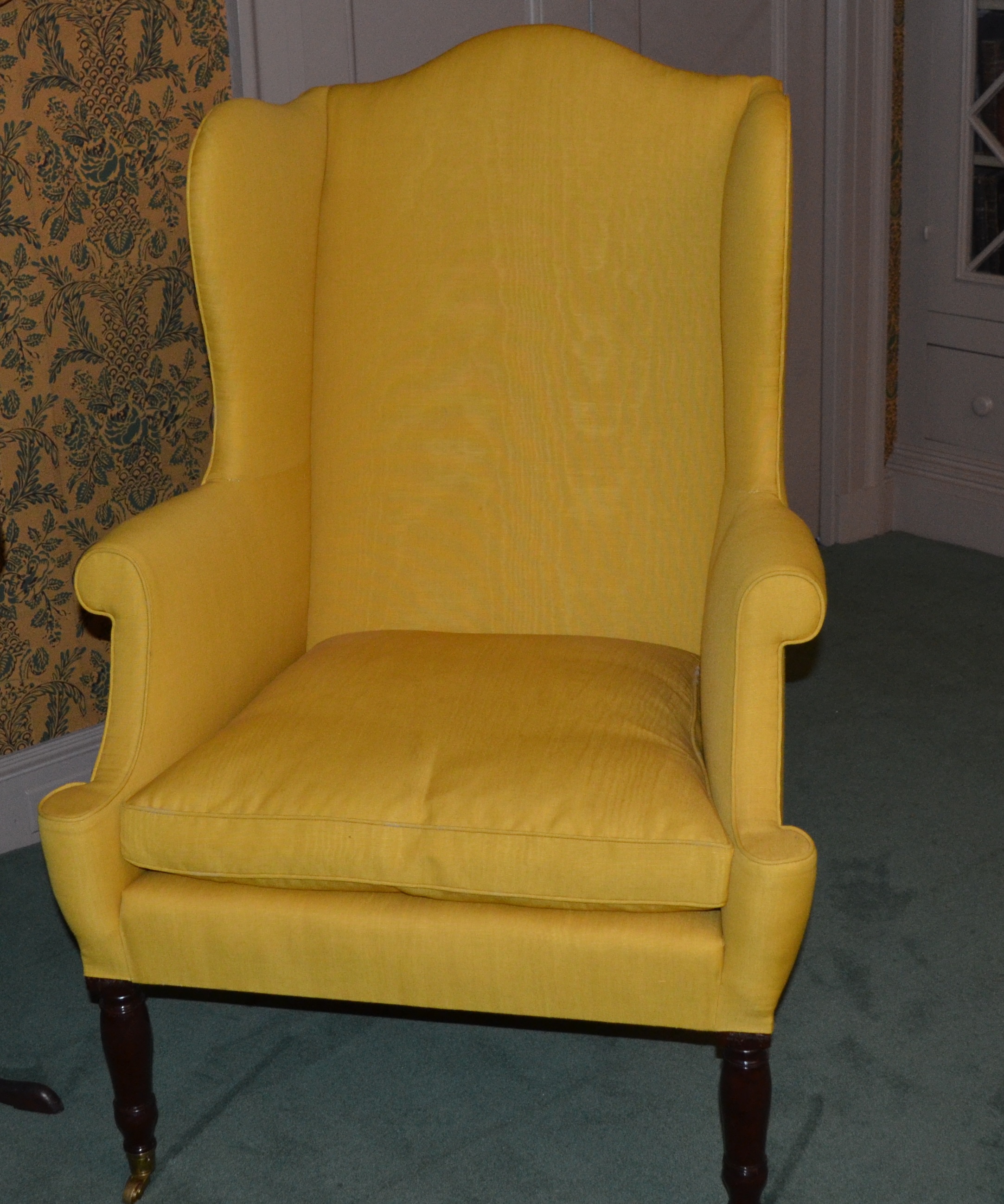 Easy Chair
c.1815
Mahogany, pine, poplar, ash, pressed wool
JJ.2017.42
This easy chair was made around the year 1815. It is in the New York style, having straight wings and turned mahogany legs, unlike the Queen Anne Style, which had curved wings, cabriole legs and was popular in England. The legs of the chair have their original ferrules (the cap on the bottom of the legs), and castors with a gilt lacquer finish. The current upholstery is a reproduction of a period appropriate fabric known as harateen.
Harateen is a worsted damask fabric; it is a wool-based fabric with a hard-textured surface and no nap in the wool. The fabric is embossed with an engraved copper plate on a hot press. Worsted fabrics could stand up to heavy use, making it a practical choice for a chair that would be sat in often. Originally produced in France around 1720, harateen became popular in America in the late 18th and early 19th centuries.
While these chairs were known as easy chairs in America, they were also known as wing chairs or fireside chairs. The wing back style was first developed in England in the 1600s but did not become popular until the 1720s. It is designed so that when sitting fireside, the person may face the fire while keeping their back and sides protected from any drafts. In Britain, wing chairs were a recognizable piece of furniture often found in the main room of the house, usually the parlor or living room. In America, easy chairs were typically found in bed chambers and were suitable for anyone who was frail or tired.
In the last few years of his life, a series of strokes left John Jay confined to the first floor of the house. The family added a small bed chamber off the back of his office, and he spent most of his time in these two rooms, thereby making his office an appropriate location for an easy chair.