Be an Object Detective – can you guess what today's Mystery Object is?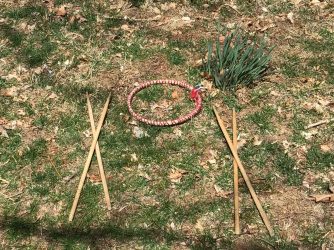 Here are some questions to answer about the object:
Looking at these objects, can you guess what material they are made of?
What shapes do you see when you look at these objects?
The three objects in the picture work together. How do you think they were used?
Yesterday's Mystery Object was a Sewing Bird.
It is made of metal and has a fabric pincushion on top. A sewing bird was used as a clamp. The sewing bird would clamp fabric onto a sewing table, keeping the fabric nice and tight while you worked on your sewing.
The pin cushion on top would hold pins.
You may view the Mystery Object archives HERE