Be an Object Detective – can you guess what today's Mystery Object is?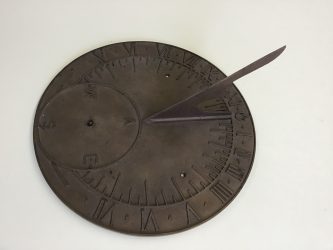 Here are some questions to answer about the object:
Looking at this object, can you guess what material it is made of?
Do you think this object was used inside or outside?
What do you think this object was used for?
Yesterday's Mystery Object was a Stereoscope.
It is made of metal and wood and has glass lenses. This object was used for entertainment. A paper with two photographs on it would be placed in front of the lenses. Then the paper would be slid back. The farther the paper gets from the lenses the better as the image appear to come together and form a three-dimensional image. This gives the viewer the experience of standing in the scene of the picture.
You may view the Mystery Object archives HERE