Be an Object Detective – can you guess what today's Mystery Object is?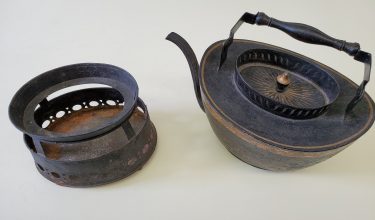 Here are some questions to answer about the object:
Looking at these objects, can you guess what material they are made of?
What shapes do you see when you look at these objects?
One of these objects may look familiar. How do you think this object works with the other object?
Do we use any objects like this today?
Yesterday's Mystery Object was a Shoulder Yoke.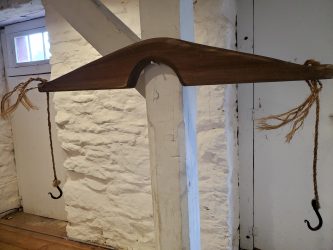 It is made of wood and two iron hooks hang off ropes tied to the yoke. A shoulder yoke is used for carrying buckets of water. The yoke would be placed on the shoulders, and rest behind the neck. Then, two buckets of water would be hung from the hooks to be carried. This made it much easier to carry. The water would be brought from a well or a stream, to a house or farm building to be used as there was no running water available in buildings at the time.
You may view the Mystery Object archives HERE