A Walk Down Memory Lane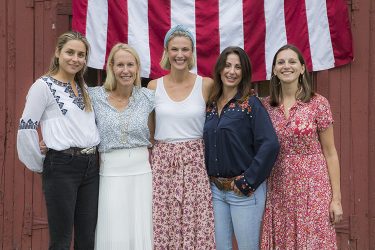 Barn Dance Co-Chairs: Alli Gilbert, Nancy Eaves, Sarah Webb, Deanna Marano, Heather Trotta Photo: Rhonda Smith
While we can't gather in person for the Barn Dance this year, we want to walk down Barn Dance memory lane with you all and share our favorite moments. We know you have special pictures from the Barn Dances over the years, and we want to see them!
Today through September 26, we will host a Barn Dance Photo Contest on Instagram. Three winners will receive complimentary tickets to next year's Barn Dance.
To Enter:
Post your favorite Barn Dance photos on Instagram and be sure to tag us (
@JohnJayHomestead
)
Feeling Extra?
Tag your friends to encourage them to join the Barn Dance Photo Contest
Feeling Generous?
Please make a donation to support Friends of John Jay Homestead in lieu of the tickets/package you normally purchase to the Barn Dance. (
Donate
)
No Instagram?
Contest ends at midnight on September 26. Winners will be announced September 28.
Thank you for your support of
Friends of John Jay Homestead!