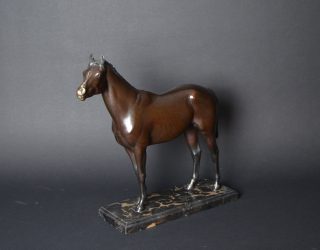 Gallant Fox
c.1932
Bronze
Eleanor Iselin Wade
JJ.1999.1
This bronze sculpture of Gallant Fox was done by Eleanor Iselin Wade, John Jay's great-great-great granddaughter around 1932. The sculpture was commissioned by Gallant Fox's owner, William Woodward, a New York banker; Gallant Fox was a chestnut stallion with a white blaze (or swatch of white fur) on his ankles. He is one of the most famous thoroughbreds in history; in 1930, he became only the second horse to win the Triple Crown. Only 11 horses have accomplished this feat since, including Gallant Fox's son, Omaha, in 1935. Gallant Fox and Omaha are the only father-son duo to win the Triple Crown. This bronze figure was sculpted from life and had three copies cast before it was published in a 1932 issue of Town and Country magazine.
Eleanor Iselin Wade was born around 1911. She often spent the summers of her teenage years in Wyoming, at the ranch of a classmate's family. In Wyoming, she worked hard and was described as working like "a regular ranch hand". Eleanor continued her formal equestrian education at the Foxcroft School in Virginia in 1925. Two years later she returned to Bedford where she studied sculpture with a local artist and attended the Grand Central Art school in NYC. After completing her sculpture course, she began to do commission work more frequently; it was during this time that she met Gallant Fox's owner, William Woodward. He was familiar with her work and commissioned the sculpture of Gallant Fox, which she completed in 1932. However, Eleanor stopped sculpting in bronze at the beginning of WWII as bronze and other metals were scarce and sanctioned. Around this time, she took over the farm at Bedford but it became too expensive to run due to the rising taxes and increasing population around Bedford.
Eleanor moved West to try her hand at cattle ranching; first in Arizona and then in Utah. It was in Utah where she met and later married Cactus Wade in 1954, (after the death of her parents and the subsequent sale/transfer of the Bedford Farm to the state). Together they moved to Montana and established a cattle ranch, later turning it into a horse ranch. Eleanor continued practicing art for her personal gratification, mostly sketching and drawing, but did not practice professionally again until the 1990s. She died in 2003, at the age of 92.
You may view the Object of the Day Archives HERE