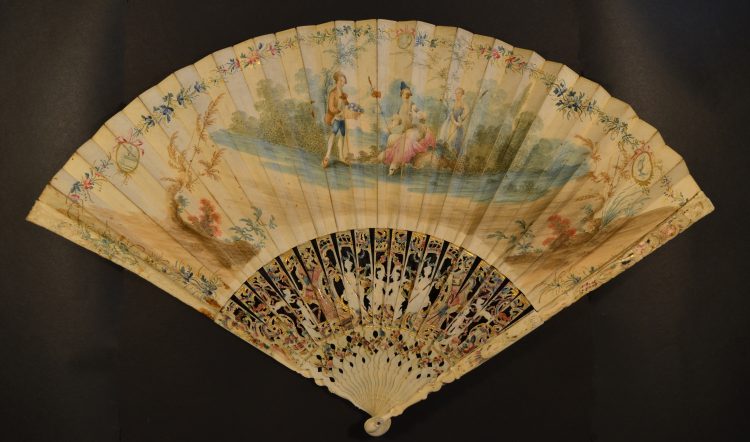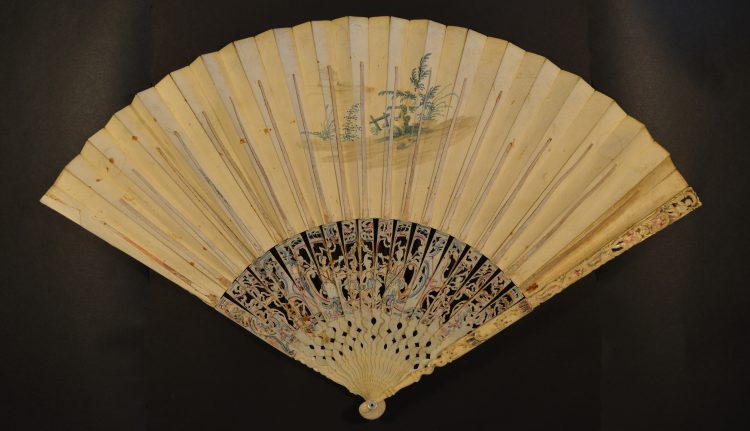 Fan
1760-1780
Ivory, paper, brass, velum, nacre, watercolor paint
JJ.1958.115
 
This 18th century fan is thought to have belonged to John Jay's wife, Sarah Jay (1756-1802). The leaf of the fan is painted with a watercolor pastoral scene while the sticks and end guards are made of ivory and nacre, also known as mother of pearl. The details of the fan point to it possibly being Dutch, made sometime between 1760 and 1780.
The fan's leaf is made from a single layer of heavyweight paper and its surface side has a watercolor painting of a pastoral scene as well as flower garlands/borders at the top and on the sides. The front center scene has two women and a man with a basket of flowers. The reverse side has a smaller watercolor scene, with a bush and a gate in the background but no figures.
There are 20 ivory sticks, with two end guards, that are all pierced and carved in the Rococo Style (which is defined by ornate and detail figures). The surface of the sticks is a carved classical scene from the 18th century, which includes scrolls, garlands, animals, cherubs and figures. The surfaces are also painted and gilded, with the lower section of the sticks being carved in "s" curves with serrated edges and flower decorations. The backs of the sticks are painted with designs that outline and highlight the figures and scroll work.
Most of our information about the origin of this fan comes from the opinions of outside curators, all from museums with extensive fan collections. Based on the photos sent to them, most curators believe it is from the 18th century and possibly Dutch in origin.
It's 18th century attribution comes from the overall finesse of detail as well as its subject matter, painting style, the small motif on the back as well as the costumes and style of the figures, and the decorative border along the edge. The quality of carving on the sticks and the wavy/S pattern on their lower section also help to date it.
Hand fans have had a range of purpose and use throughout history; they started out as practical objects and were often used in religious ceremonies. It wasn't until the 18th century that they became status symbols and a part of court etiquette, especially in France. By this time, fans had become more ornate and were often made out of more expensive materials, which allowed one to show off their wealth and status.
Fan etiquette was also considered to be an indicator of one's social standing. Many considered fans to be an extension of a woman's body language and used to express emotions in a non-verbal manner, as a result, women of high social standing were expected to have a certain level of grace/elegance when using their fans. This led to the idea of "the language of fans", where women (supposedly) used fan movements as a secret language.
While there is no definitive proof that this fan belonged to Sarah, it is reasonable to think she may have owned this or another similar fan during her life. French fans were more common during the 18th century, Dutch fans were also popular and still considered to be fashionable for the time.